All I want 4 Xmas is Charming Elite
* 4.12.2012 (December 4, 2012)
dam: Chiara z Nového Města
(C.I.B. Multi Ch. Oregon Wonder of Love x Tosca Pleasure of Friendship)
sire: JCH HR, SK, CZ; CH SK, CZ, DE; Club CH White World Bold Creation
(CH. Sunnydale´s Wind in White World x Ch. Starlit Sharleen Divine Dream)
owner & co-breeder/ majitelka & spoluchovatelka: Bc. Ingrid Labudíková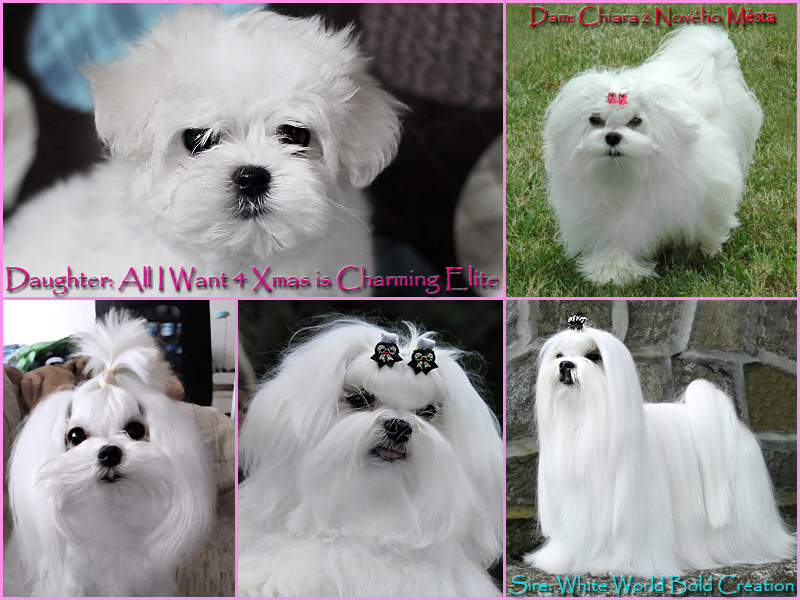 Chris (Kristýnka) je nádherná holčička s kraťounkým tělíčkem, krátkým nosánkem, dlouhým krkem, vysoko neseným ocasem a bezchybným pigmentem. Bohužel moc nevyrostla, v dospělosti má okolo 2,10 kg, a tak nebyla douho vystavovaná.
Výstavy: 2013
Velmi nadějná 1

Velmi nadějná 1

Výborná 4

Výborná 3
Fotogalerie celého vrhu A / Photogallery of Litter A
Klikněte na obrázek dole. / Click on the photo below.